1st Dive: Practice, 2nd Dive: Challenge the Manta point.
Manta Course Point1
You don't need certification. This course is 2dives and about 6hours.
The 1st dive is shallow. You practice the divinng basic skills. If the sea condition is OK, ・・・ We will bring you to the manta point at 2nd dive!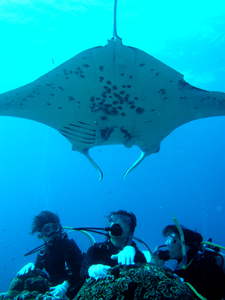 It is impossible that we take you to the Manta point in 1 dive course.
You need to learn about diving basic rules and skills to dive safely in the Manta point.
Caution:We change the 2nd dive point if the sea condition is bad and it is difficult that dive in the Manta point safely.We ask for your understanding about our dicision.